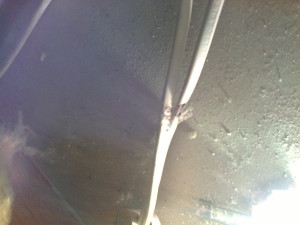 I found this today in a loft above a bathroom.  It is not a very good picture but you may just about be able to see the electrical cable feeding downlighters has had the sheath melted and the insulation damaged.  What appears to have happened is work in the loft had disturbed the cables resulting in them lying on or close to a halogen lamp of downlighter without a frame.  These lamps run very hot and as you can see it has melted a cable. This particular type of lamp is a GU4 type which can be found in kitchen and bathroom downlighters without a protective frame or cover around. It operates at 12V (not normal domestic 230V) for a longer life. This means there is a often little box near each lamp called a transformer that converts the 230V to 12V.
This is a maybe a reminder that home electrical installations should be inspected regularly to try to avoid problems such as this.  The new 2015 Electrical Regulations now state that inspection of loft spaces has to be part of a BS7671 periodic inspection of a domestic propery.  As a bonus a good electrician at the time of an inspection will be able to advise on electrical safety improvements, low energy  choices, fire safety options and convenience improvements.  Also be careful who you let lose in your loft to do any work!
If you have any of these GU4 lamps in light fittings in your home then maybe it is time to think about changing them for LED downlighters anyway.  Particularly as some of these open frame type fittings  in a kitchen fire scenario will allow heat and smoke almost immediately through into the ceiling cavity.  New replacement quality LED downlighters run at lower temperatures, are often fire rated to reduce the speed at which a fire could spread, are virtually maintenance free and usually can have a cage option on the back of them so roof/cavity insulation can still be closely installed over the top.