I recently had the pleasure of a job to replace two sets of wire suspended lighting fittings in a barn conversion home.  The result was excellent and ideal for an exposed beam ceiling.  It is has similarities to a track lighting system but instead has a pair of exposed wires strung across the room ceiling with the adjustable light fittings suspended from the wires at points required.   These systems have had in the past a bad name due to poor reliability of some systems and installation design complications.  But with the availability of quality reliable LED  12V lamps this poor reputation has now changed.  These new quality LED lamped systems  are overall (including any plastering, redecoration and floors up/carpets lifted for downlighters) are probably about the same price as down lighters install.  The main stream wholesalers appear to be wary of supplying the wire suspended equipment possibly due to warranty risks they may have experienced with the similar older halogen lamps systems The halogen lamped systems I personally would avoid.
This kind of stylish system could suit your home if you have a room that needs new or improved lighting but have requirements such as: very high ceilings, orangery or conservatory style, exposed beams, building conservation requirements, no access to ceiling void through floor above, fire Compartment building regulation complications, no ceiling void, need a flexible lighting scheme or simply like the look of a wire suspended lighting system.  Here is an example bought from National Lighting in Chichester http://www.nationallighting.co.uk/branches/nw39 :-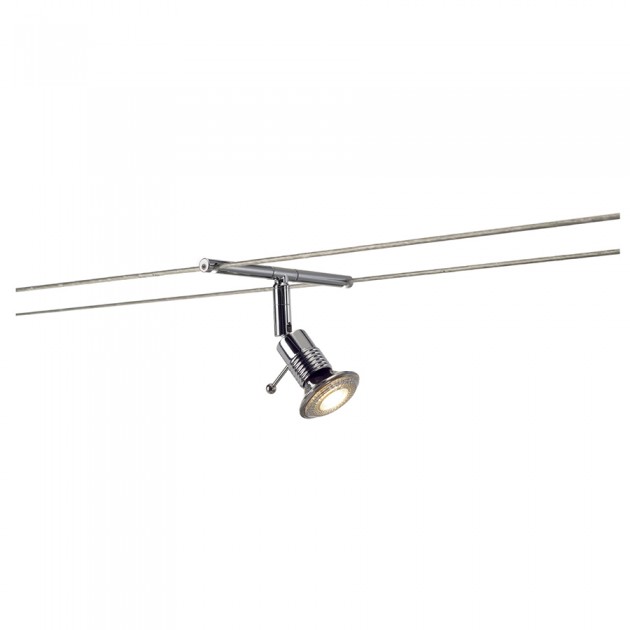 It could have its uses in a Retail display environment as well.
If you are interested in one of these systems then I suggest care is taken with the selection of your electrician to design, select the products and install it. Reasons being, there is a specific section in the UK Electrical regulations that covers these systems, matching the various components in the systems is important for reliability and finally but important to the resulting effect there are choices to be made on the colour and brightness of the light from the LED lamps.