Starting June this year there will come into force a number of changes to the British Standard electrical wiring regulations for all homes and other premises. These changes will affect home owners planning to make certain types of changes to home electrical wiring. Electricians offering to undertake these changes, or new installations, will need ensure the work is compliant to the updated BS7671 Amendment 3 regulations. Currently both the new and the previous versions of regulations can be applied because the changeover is gradual between now and January 2016.   To avoid any problems resulting from this regulation change then home owners would be wise to ensure any electrical work is undertaken by a business that is registered in a Competent Persons scheme such as the NICEIC Domestic Installer scheme.
The main changes in the regulations are to improve safety. The most significant is that new installed or replacement Consumer Units (also known as mains Fuse Boxes) will need to be of a non combustible construction. For many years Consumer Unit (Fuse Box) cases in homes have been manufactured from plastic materials and are often installed in a location that is the means of escape from a home. There has been enough incidences of home fires caused by overheating Consumer Units that lobbying by London Fire Brigade of the British Standards has resulted in this safety improvement where all new Consumer Units installed after January 2016 at the latest will have steel construction cases.
Another important change has been introduced as a result of requests by Fire Brigades after an incident involving loss of life in property fire.  A contributing factor to this loss of life incident was wires that had been exposed to heat were drooping down to block a fire escape route. Quite simply the plastic fixings holding up wires melted. Fire officers and persons escaping had problems getting out of smoke filled rooms because the wires blocked the doorways. The simple change in the new regulations is to ensure that cables installed over escape routes are secured with metal fixings, this will keep the escape routes clear in the event of fire damage to cabling.
Here is an example of the problem that resulted in these changes to the regulations for securing cables:-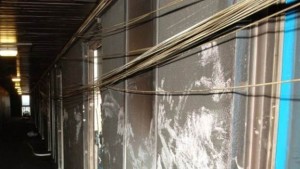 Besides a welcome increase in safety how else will these change affect homeowners?  In the case of the new Consumer Units there is unfortunately an small increased cost. Not only for the item itself but also there is an increase in the labour required to install them.
On a related subject, there are still homes in the UK still have much older versions of Consumer Units (Fuse Boxes), what some might recognise as the old style fuse box with removable/plug in wired or cartridge fuses. These were probably installed between 1950 and perhaps as late as 1990.  Assuming correctly installed and the installation has not been in expertly tampered with since, then these are often still serviceable as they were intended.  But home owners and occupiers should be aware that some of the very old Fuse Boxes are beyond their original expected service life and more importantly a considerable improvement in safety can be achieved by replacing these older style units with a new Consumer Unit containing modern safety devices.  Electrical safety for domestic installations has improved considerably in the last 25 years, in particular the introduction of devices called RCDs which are considered to be of such great benefit that almost all new domestic installations and new circuits legally have to have these RCDs installed.
NexElec Limited would be pleased to offer inspection and installation services for home electrical safety improvements including replacement Consumer Units.